Quote:
Originally Posted by
trout

A Vacation In Hell
(1979)
made for TV
This review, says that two of the four women did not keep all their clothes on, but not which two.
Nor does it say anything about nudity.
A Vacation in Hell concerns four women and one man who are booked on a "dream vacation" at a tropical resort. All five become lost on a jungle island, forced to fend for themselves. An added peril: The jungle is not uninhabited. The dramatis personae consists of "love-starved" Andrea Marcovicci, "swinger" Priscilla Barnes, mother and daughter Barbara Feldon and Maureen McCormick, and musclebound Michael Brandon. While Brandon keeps most of his clothes on, at least two of the ladies don't, which should give you a good idea of the target audience for this made-for-TV programmer. ~ Hal Erickson, All Movie Guide

I just can't imagine a made-for-TV movie from '79 having any nudity at all. Especially one from the US. In this clip, Maureen takes her shirt off and dances around in a bikini, so that does qualify as removing some clothing.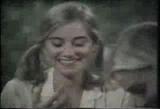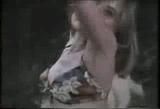 I have a very bad copy of this movie, and I will tell you that there is no nudity in this movie.
I've watched it all the way thru. If you had a very high-def version of this you might see an occasional flash of a little bit of extra skin, but there is no real nudity, the closest thing to nudity is Maureen, jumping around in a bikini.
The movie itself, is a god-awful made for TV movie that featured every sorry plot development from that era, so unless someone can convert it to high-def, it's really not worth the effort.
However, if you really want to see it I think i got it from you tube, but I don't know if it's there anymore.