Victoria
Symonds
, born in Maidstone/UK, 20 years old (born 1956, probably) when the pictures were taken.
Here's one picture I've found on the web, a bit larger than the one already on this thread: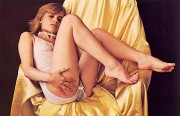 From
Mayfair,
v. 11, n. 10, october 1976.
Her measurements: 34" (86cm) bust,, 22" (56cm) waist, and 35" (89cm) hips.
Her bust and hips measures are almost certainly overestimated.
(I'm sorry, Vicky!)