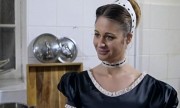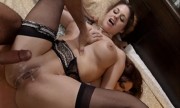 Does anyone have an idea who this gorgeous girl is? She appears in a clip I have from an unknown film, possibly French although they all speak English - broad cockney although this actress has a sexy foreign accent! The caps I give here aren't entirely clear but she doesn't appear to have any tattoos or piercings. Any guidance would be very welcome.
The film would appear to be at least partially set in a stately home owned by the 'Smutties' and a previous scene is alluded to in this clip involving some hanky-panky between the chauffeur (lucky feller) and the lady of the house in the family car.
Thanks, rewbear.
This post has been moved from another thread.