Followup thread for2009 MB girl here
This model has been posted on the forum and an ID suggested as Julia Gilda.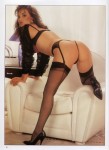 Mod's deputy edit: re-hosting imagebam to pixhost
I have some unposted scans that disagree with this ID, however I do not have an alternative name to give her. I'm convinced it is not Julia Gilda.
Any help much appreciated.
Cheers,
Dumbassgo.
*EDIT*
Some more scans from this set appear
Link Failed
She's called 'Louise' in this mag.
Quote:
Originally Posted by she's not
Julia Gilda