Just a little porn brain exercise. It's easy to think of nude models and porn stars that we love. Here's your challenge: Think of a lady (and if possible post a corroborating photo) who you
would
really like, if it weren't for...
Tattoos? Shaved bush? Annoying voice? Looks bored? The sky's the limit. Something she's done deliberately, or something that she probably doesn't even notice about hereself. Anything that turns you off about a specific potential hottie, name it. Feel free to submit multiple entries, if you've run across multiple spoiled hotties. No need to be insulting, just state your case.
This has some similarities to the Turn-Offs in Porn thread, but the point here is that you really
almost
dig this specific performer, if it weren't for...
---
I'll go first, by way of example. Jaimee Foxworth, aka Crave. Used to be a child actor, one of the stars of Family Matters (the very definition of a god-awful sitcom, incidentally). Made the mistake of taking her agent's advice to ask for more money. The network responded by having her character go upstairs... and never come back down. The next time anyone saw her, she was all grown up and doing porn.
This isn't about life's little ironies, though; it's about how I think she's pretty damned hot. Or she
would
be, if it weren't for... That annoying and nasty eyebrow ring.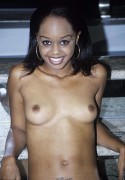 Really, that pierced eyebrow really blows her look. It's not as bad as a nose ring, I suppose, but still. She's a real cutie... but I just can't get past that eyebrow ring. She's hot enough that I can even forgive her the tattoo, but the eyebrow ring is a real deal-breaker for me. I have a couple clips of her, but after a while I just stopped looking for her material. I found that flapping thing just too darned distracting.
So, who's next? By the way, feel free to debate other people's choices, but as always try to keep it civil. This is meant to be a friendly discussion.