Quote:
Originally Posted by
inklespot

I've been feeling guilty about not posting more, but the dreaded ex-girlfriend incident saw off my old magazines, and the hard-drive dismemberment wiped out my archive, and I don't particulary collect anything that isn't readily available, so Other Stuff it is...
I've done a search and I don't think she is on the site yet.* I'm sure some here will remember her from a few years back, her iafd page is here
http://www.iafd.com/person.rme/perfi...=f/Felecia.htm
Scene 1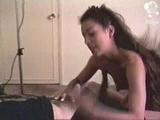 This is supposed to be her only B/G HC (albeit oral only), and quite hard to find, so all credit due to Mago for making the clips.
I'll try and find something more suited to the forum for next time.
I really like this scene, I had it recorded in vhs, if someone could tell me the title of this movie I would be very grateful