I am putting this here and not in the mag request section, since I am even more stinging to know the info I am after than to perhaps eventually find the complete layout posted (which would of course be heaven, but I don't expect having so much luck):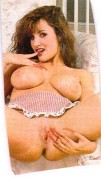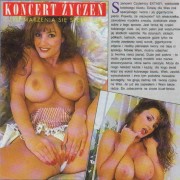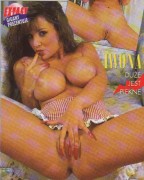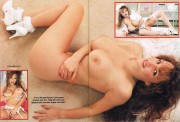 This - easy to recognize - is Lisa Ann during her first period, when she started her adult modeling career in the early mid 90s. The first pic has probably been taken from the original layout, the others are, pretty obvious, secondary publishings. I know that the original layout was published in Larry Flynt's
Chic
magazine, Lisa may even have been the centerfold, though I am not sure about that. I also remember that they gave her some nondescript name that I've forgotten as well, though most probably not "Zina Sunshine", like she was only called for her solo performances at Napalivideo. That it was a layout in Chic I know absolutely for sure, because me fool even owned that issue back then, but I can't for sh** recall today, which one it was! That's the problem I hope you can help me solve, because now I would love to have that layout again and make good quality scans of it to keep forever. At times back issues from that period can be found for sale somewhere, but they are of course way to many for taking chances, just buying all available and maybe still missing the main target...
So, can anybody here scrape together any memories not only about having seen this very layout of Lisa in Chic - chequered mini skirt and long pink nails as two significant characteristics - BUT about the year, month or at least some features of the mag's cover? - That's what I hope and ask for!
Setting the earliest attempts of Lisa Ann's modeling career to presumably 1993, I'd say the critical issue should have been published between '93 and '95, but that's just a guess.
One last hint: Don't let yourself get confused by the fourth picture! It's true, it was printed in Huster's Busty Beauties 02/1998, but in my eyes that's also only a secondary publishing of a picture from an old layout: There are no more pictures of Lisa in that issue, and after all, Hustler is also a Larry Flynt publication, so they had that footage at a close distance...
Good luck for your brainstorming, I'll be grateful for any progress...

Edit:
What you see here below is
NOT
the issue I am after: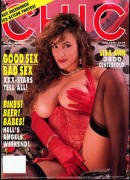 I just discovered that Lisa Ann even appeared on the cover of June '95 Chic - but in a completely different outfit and already under her regular name! This is absolutely
not
the issue/layout I am looking for. Even if I don't remember its cover, what I know for sure is that it did not feature Lisa Ann!
Beyond that, the fact that in June 1995 she was obviously already famous enough to get her official screen name printed on a magazine cover, seems to speak strongly for the assumption that her desired layout under pseudonym came about and was published way before, maybe even before the period I above denominated as a guess...