Every now and then, I have to remind myself about the wonder of Janie...so I guess this is a reminder!
In the world of the glamour magazine, I'm not sure if any single image has had quite the same effect on me as this mid-90s Janie shot- just the perfect sexy and sweet combination for me!
I then patiently waited for her to become the star of the glamour world and although she did reach a certain level of success, the devastating naughtiness I was hoping for never quite materialised.
Then out of the blue, a few years into the future, this little Playboy TV special showed up: -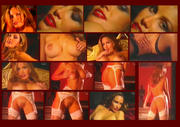 I couldn't believe my eyes...there was Janie all smouldering, sultry goddess...exactly the image I was holding out for! I love the mood of these scenes- everything seems to have an erotic glow, almost as if Janie's performing on a sophisticated strip club stage! And there's that gorgeous, tumbling hair and all that glamorous make-up (my goodness, these red glossy lips drive me to utter distraction....she's the ultimate naughty femme fatale looking like this!
And the wonder doesn't end there! I can't believe how exquisite her body is- I'm not usually a fan of boob jobs, but I reckon that's one of the best boob jobs I've ever seen- all of a sudden, they're so big and full....and such a beautiful shape!
Janie's long legs were always a stand out feature....I can't remember how many times I was dreaming of seeing her in just classic stockings, suspenders and killer heels....and all of a sudden, she obliges! In fact, she is stockinged and suspendered up for the entire video, quite a treat for me. I reckon the sight of her in her white undies is about as close to erotic lingerie perfection as I've seen!
I live in hope that some kind soul out there can help guide me to a decent quality version of this footage....I believe it was a Playboy Special at the time.