•*The first porn I ever saw was Playboy's April 1981 issue, Lorraine Michaels as Playmate of the month. But I don't think I beat off to that. I found the magazine in the yard between my home and a neighbor's. I was 7. I stashed it in a cellar room by the garage, and was absolutely blown away by her playful raincoat pictorial. Christ that was so fun and sexy, what an introduction to porn. But I do not recall masturbating to her. Do now, but not then.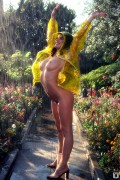 • Mindy Farrar (Cindy Nelson) in the November 1984 Penthouse. This was on my father's nightstand under a phone book. I would spend hours humping a pillow and gazing at her. She never looked better than in her Penthouse pictorials. The stuff overseas highlighted her natural curviness, which is fine, but in Penthouse she was a blow-you-to-smithereens total pussy goddess. So she's my first centerfold I masturbated to.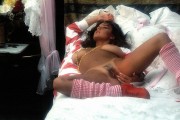 •Joan Bennett in January 1985 Playboy was not only the first time I came while masturbating to porn, she was the first time I came, ever. It was almost frightening but when I realized what was going on I let the rush go right through me and imagined her underneath me as I blasted away. I had heard this was supposed to happen from the Penthouse Forum with Mindy Farrar in it.
Of course in the Forum letters all these guys would talk about the big loads they would jizz all over their partners, etc. so that formed my expectations. And I'm not lying, for Valentine's Day when I was 12 I wanted to write a romantic story for my "girlfriend" (I mean, we called each other by those names but really, no one has a girlfriend or a boyfriend at that age).
I wrote a Penthouse Forum letter that stole from one I read about a guy fucking a girl on a football field. At age 12, I wrote about blasting flaming hot blobs of sperm (using those words specifically) on her face. How I was not committed to juvie hall on the spot, I have no idea. If that happened today, I would be tried as an adult.
Porn memories. Carry on ...