box 2012:
102
User
StudioCS provided
some additional information here:
This goes to show that the name "Nina" and the Swedish origin is real. No surname from this source though.
We do have the surname Borratt from this Parade cover (
courtesy of cryingyogi
)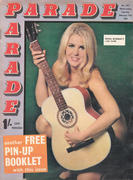 but unfortunately that is not quite home and dry, as there is also the different model
Nina Barratt
who (amongst a few others) also used the variation Nina Borratt on at least one occasion.