More evidence
It is known for Lynda Carter's fans that she often wears her own clothes and pieces of jewelry while playing roles. This can be seen in episodes of Wonder Woman and even in special appearances in other shows while comparing to candid photos of her.
And in the centerfold, she's wearing the exact same rings she wears in Bobbie Jo and the Outlaw. Only the right hand ring can be seen in Colleen's version but I think it is not the same type of ring, just similar. Also notice that Colleen is wearing a bracelet, while Lynda isn't.
Here are the images comparing the centerfolds to screenshots from Bobbie Jo and the Outlaw. You can see the rings have the same shape and details.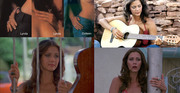 We know for sure that it's not Colleen's body with Lynda's head, and to have another model have the exact same rings Lynda wore in a different role to fake a picture is REALLY pushing it.