It seems like ages ago when PB was at the heart of our culture—when every straight male of a certain age (puberty until death!) was a fan and when beautiful women competed for our affections. There's no point in fighting to bring PB back as it was. I wish Hugh Hefner's son well, but there are good reasons not to fight. We need to make the social world as welcoming to women as to men, and winning a beauty contest—including PB's ultimate beauty contest—is no longer the honor it once was for a young woman.
Still, it's upsetting that an artistic, sophisticated magazine that captivated every heterosexual American male is now portrayed as pornography, pure and simple, rather than as fun and sexy. And it's upsetting that fans, as well as many of our favorite PMs, have been held responsible for the goings on at the PB mansion and for the excesses of Hugh Hefner's hedonistic lifestyle—a lifestyle that in his golden years embarrassed even his sons. There was more than a bit of desperation in the way he lived his life. It's one thing to look at young women and to have fond memories of the women who swept us off our feet in our younger years. But older men like Hugh Hefner, who can't be smitten and fascinated by women their own age, and who've forgotten the down side of relationships between young women and young men who have a lot of growing up to do, have got a screw loose somewhere. And Hefner was well aware that many of the famous, wealthy, powerful men he invited to his mansion took advantage of their status as they hit on his young female guests or worse, as in the case of gropers like our current president, rapists like Harvey Weinstein, batterers like O. J. Simpson, and their ilk. There's much not to celebrate about Mr. Hefner and his predatory crew.
What's most upsetting, however, is the failure of critics to understand how most fans think about the women who appeared in PB. I read an editorial, for instance, that ridiculed the latest edition of the Centerfold book. The writer challenged herself to leaf through the entire book in an hour. She found the exercise boring. The woman looked alike. Nothing to see, in her opinion, but stale poses and pro-forma nudity that dehumanized and objectified women.
The writer, of course, didn't understand the purpose of centerfolds. Like PB's calendars, they were never meant to be erotic, because they were supposed to be suitable for semi-public display. That's why they're a bit formulaic. Just think of the two photos in Karen's layout that fans love the most. Not formulaic, but no chance of being the centerfold. Just too hot!
But beyond that, the author failed to see that she, not we, dehumanized and objectified the women who appeared in PB. She looked at each PM perfunctorily—less than 13 seconds each—and concluded on that basis that men think of PMs as mere sex objects. Then she went on to dehumanize us, the alleged dehumanizers.
I'm pretty sure, however, that I'm not speaking just for myself when I say most PB fans see PMs very much as people—extraordinary people. We're in awe of PMs, and we're quite aware that in real life they, not we, are on the top of the heap. To say that we feel some kind of awesome power over women by looking at erotic photographs reverses the polarity. When it comes to everyday guys, the power flows in the opposite direction, just as it has for most of us in real life since puberty. And I bet most PMs felt and enjoyed that power. They knew we'd be crazy about them, and reveled in it.
Certainly, the prominent men who haunted the mansion might have had the upper hand with some PMs. But it's quite the opposite for fans who stand in line for autographs at car shows and Glamourcons. And think of the millions of us who would have loved to have met PMs at a car show or a Glamourcon, but didn't go because we worried we might look pathetic in the eyes of the most beautiful women in the world. That's why I never went! I imagine most PMs are kind to fans and do what they can to make us feel welcome, but there's no question in my mind about who has the power in these situations, and who doesn't.
And please, the claim that PMs look alike to straight men is laughable. Maybe to a straight female author or anti-erotic activist, but the beautiful women in PB don't look alike to us. Every true PB fan could tell you chapter and verse about how different Candy Loving is as a person and a beauty than Patti McGuire or Cynthia Myers, about the photos that drive them wild, and about their favorite GND photos. The poses aren't stale to us, but inventive and unique. We all wish we could see our favorite PM strike some of the poses other PMs did. I wish I could have seen Karen Price strike some of the poses of Candy, Patti, Cynthia, and, well, my list goes on and on. Believe me, I wouldn't mind seeing Karen pose for us like this,
Or this,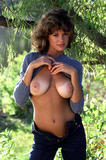 Or this,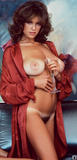 Or this,
Or this!
I'd love to hear other's thoughts on the subject, and on Hef's passing, if they're willing to post, or if they'd be willing to send me a message and let me post their thoughts anonymously.
P.S.—I'm not a fan of Camille Paglia, but she had interesting things to say about Hefner, PB, PH, and feminism, as a self-proclaimed "pro-sex feminist."
http://www.hollywoodreporter.com/new...phobia-1044769