Quote:
Originally Posted by
revs

From
Color Sperma n. 10
: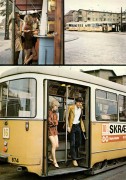 An tinteresting tramway from Europe... Where? In the tram window we can rean "Tafteg..."; line is 16, but not much clues

Rick Ace you are right but not really right

The tram no. 16 was, as you said, running from Toftegaards Plads in Valby to Emdrup (Northwest Copenhagen). The picture however is not from Toftegaards Plads but from the Emdrup endstation and more....the picture is mirrored in the magazine!
Here is the place today (also mirrored)
(today everybody regrets that the trams (produced in the german city Dusseldorf and given to the Egyptian city of Alexandria when taken out in Copenhagen

) were taken out of business and replaced by busses