Hello All,
I will really appreciate your thoughts. I'm pretty new to actually processing the scans that I make.
I use GIMP to Descreen and Despeckle, and then perform an Unsharp Mask.
In the end, I'm not sure if the process really provides a better scan to post? Or if I simply need to change my processing settings?
I am attaching an example. Which do you prefer? Can you provide me with advice on how to improve the output (without adding much or any time)?
Thanks so much!
Matt
Original scan at 200dpi: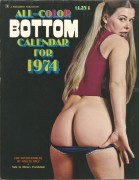 Descreen, Despeckle, Unsharp Mask: