I wonder if anyone can supply info on the (Danish?) companies Intermag and Venus Studio which sold glamour/pinup photos of British and/or French models in the 1960s, at least in Denmark. I have the feeling that they were somehow connected, but may be wrong.
I attach scans from an Intermag catalogue from 1967 and a Venus Studio header card with colour slides.
Any information will be greatly appreciated.
Thanks,
Stante Pene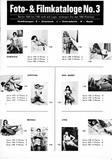 Save
Save
Save