It's not often that we PB fans speak about the most compelling photos of our favorite PMs, the ones that are truly "erotic," as PBs photos are at their best—the photos that are not only beautiful, but exciting beyond belief—the ones that arouse our deepest sexual feelings. I love the "boudoir" photos of my favorite PMs, the glamour photos, and the girl-next-door photos. But I must admit (and I think most PB fans will agree with me) that the photos I can't get out of my head—the ones I think about time and again—are the ones that overwhelm me and leave me burning with desire. Not every PB model was willing to go that far—to create truly erotic art. Most never ventured beyond glamour or boudoir photography. But a brave few, like Karen, didn't hold back, and worked with PBs greatest photographers—Ken Marcus, Pompeo Posar, Dwight Hooker—to create erotic art for the ages.
Karen said on a number of occasions that she didn't know how to model when she arrived at her first shoot. It took her some time, she admitted, to learn. But my goodness, think of what she had to learn. She didn't sign up to be a fashion model or a runway model, which is hard enough. As Karen said in her interview with the Regina Leader, which paraphrased her thoughts, "Looking sultry and seductive takes skill, not to mention nerve, when you think about all those people hovering around you and you're the only one with your clothes off." Fortunately, Ken Marcus, who was hired by PB to heat things up, is a master teacher, and Karen was a model student—a coach's dream.
Karen did a wonderful job when it came to her "girl-next-door" photos. She's adorable.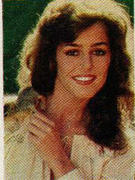 Karen and Ken Marcus also did a great job in her glamour photos, with dramatic lighting, costuming, and makeup. She's out-of-this world beautiful.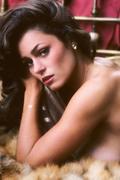 And Karen did a sensational job in her boudoir photos, which captured her beauty in lingerie. She was relaxed, poised, and welcoming. She didn't hold us at arms-length—she drew us in, as if she had posed just for us.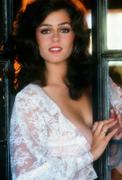 But none of these photos were meant to rouse our sexual desires to a fever pitch. They leave us yearning to see more, but alas, most PMs stopped there, and left us hanging. Karen didn't. She and Ken Marcus kept going, and created the finest erotic art that has ever appeared in PB—one more reason why Karen is the most beloved PM among vintage fans.
It's hard to know how Karen's greatest erotic photos came about. Nearly all took place in the sexually-charged atmosphere of her bedroom shoot. Most every PM had a bedroom shoot, but few were as determined, as Karen was, to drive us into a frenzy. She wanted to arouse our sexual feelings, and she did, with Ken Marcus's help. And think of how hard that was for Karen. If you've seen Ken Marcus's video on glamour photography, you know what Karen meant when she said her photo sessions were hard work. Think of how difficult it was to create a photo that drives me wild every time I see it.
Karen knew what Ken Marcus was going for. He wanted her to seduce us, flat out, and leave us speechless at the sight of her gorgeous body, her beautiful face, and her spectacular breasts. He asked Karen to drop her breasts as far and as lovingly as she could so our desire for her would burn white hot.
Think of how hard it was for Karen to hold that pose, knees bent, feet together, stooped over, tummy muscles flexed tight to give her a tiny waist, her lovely behind thrust out, and her back as straight as she could make it. And Ken Marcus and his assistants must have taken many minutes to get her photo just right, as Karen held her pose. They backlit Karen to accentuate the curves of her hair, back, and behind, and front-lit her to illuminate her tan lines and make her gorgeous, pale breasts glow in an otherwise dark setting. The staff combed Karen's hair so it appeared to fall naturally and accentuated the cascade of her breasts toward the floor. Ken Marcus must have moved Karen's hands and elbows several times to get just the right angle, the right pitch of her body, the right turn of her head to create this spectacular shot. And then Karen, probably fatigued at that point, and perhaps even sore from posing in such an awkward and unnatural position, had to rise to the occasion and give us that look—the most important element in her photo. She didn't appear fatigued, distant, or frightened by what she was doing. She let us know, as she looked straight into our eyes, that she wanted us to be with her, that she wanted us to enjoy her, that she enjoyed being with us, and that she wanted to thrill us to the very core of our male beings. She wanted us to desire her more than we had ever desired a woman in our fantasy lives. Yes, she might even have been thinking about stardom. And she succeeded.
But again, it was not just Karen's artistry, her expressiveness, but her collaboration with Ken Marcus that created her heart-pounding erotic photos. I wish Karen and Ken would speak with us about how those photos came about—who pushed whom. But I have the feeling that they pushed one another as Karen and Ken Marcus (despite his professionalism) got turned on. There's little doubt in my mind that Karen was aroused sexually by what she was doing. As Patty Duffek said in a chat with fans years after she posed, she got so hot and bothered one day on the set that she rushed home and made her boyfriend very happy that night!
Karen was one of those special PMs who PB photographers yearn for—who embrace not just the glamour and boudoir shoots, but the erotic possibilities of PB's art. PB photographer David Chan described his ideal PM in an interview in 1982, which certainly speaks to Karen. He searched for "a looker with lots of oomph. The face comes first. We still want a little bit of the girl next door. We still want a bit of innocence. I usually look for the eyes that sparkle and entice you. The lips, the mouth, the way they pout. When you're doing a Playmate, you have to have everything. Be a 10." But he hoped for more. "When I get aroused is when everything clicks. When the shooting is great, when she responds. That's great guns. That's my high." Karen has all of those qualities. And she responded to Ken Marcus and his camera—and how!
But how did Karen's great erotic photos come about? Were they her idea or Ken Marcus's, or did they press farther and farther on together as the set got hotter and hotter for them both, as they realized that they were creating extraordinary erotic art, the perfect collaboration between photographer and model?
It's still a mystery to me how Ken Marcus coaxed that performance out of Karen, and how Karen summoned the courage, despite her anxiety about the whole enterprise, to throw herself into it the way she did. Erotic doesn't begin to describe her bedroom shoot. I wish Ken Marcus would speak with us someday about Karen and her shoots, so we could get a better sense of how they came about, what from him, what from her, and what from the moment. I mean, did he say to Karen, "I'd like you to take the strap of your gown and . . . "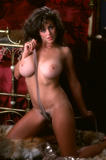 Or, "Karen, I'd like you to lean back against the bed and . . . "
Or, "Karen, I'd like you to open the top of your gown, and with your right hand I'd like you to . . . and with your left . . ."
Or finally, "Karen, I'd like you to open your gown all the way, reach over your head as far as you can with your right hand and grab hold of the ornament on the top of the bedpost, and with your left I'd like you to . . . "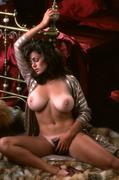 I don't think I could ever say such things to Karen or anyone else. I'd be too embarrassed. Heck, I'm too embarrassed to write them in this note, which is why I suppose I wasn't cut out to be a photographer for PB. How do you ask a young, beautiful, inexperienced model to play with her body that way? And why did she say yes, yes, yes, in the most passionate way? Did she hesitate at first? Did Ken Marcus encourage her, and if so, how? Maybe these photos were Karen's idea, and maybe Ken Marcus dared to ask. I'd love to know. But Karen must have known in her head and heart what he was asking, or hoping for, and how turned on we'd get if she agreed. It doesn't appear that she was tricked into these photos. She is too daring and committed in these photos for that to have been the case. And she was anything but na´ve—she (and Ken Marcus) knew what would turn us on, and she knew she was so breathtakingly beautiful she could do it.
So we don't know how these photos came about, and may never know, but I'm glad they did. As I've said elsewhere, Karen didn't just fulfill my fantasies—she created them!
Yet her photos, superbly staged and sexually charged as they are, would not have been perfect had it not been for the extraordinary looks on Karen's face. When you think of how long she had to wait as Ken Marcus and his assistants bustled around her, fussed about her, and repositioned her, about how difficult her poses were to hold and how far she was asked to go, it's amazing that she was ready, willing, and eager to thrill us when it came time to click the shutter. Her bold look with the strap of her gown, her inviting look in the next photo, when she flat out offers herself to us sexually, and the last two, when she lets her feelings flow, aroused and passionate—my God, how beautiful, and how, well, to put it euphemistically, erotic! Has any fantasy woman ever turned you on more than Karen does? And it's clear that she meant to arouse our sexual feelings and desires. She knew what PB hoped for and what PB fans were desperate to see. And she was not only willing, but happy and excited to go all the way for us. And I think (and hope) that she was as turned on as we are. That's the excitement of erotic art at its finest. Fun for us and for our heartthrobs alike.
Karen's shoot was an artistic turning point for Ken Marcus. None of the PMs he had photographed before, from Aziri Johari to Lisa Welch, displayed the degree of sensuality and sexuality that Karen did. But after Karen's shoot, he tried again and again to recapture what he had achieved with Karen, and he apparently asked every willing PM from then on to play with her body as Karen did. He was only able to achieve that artistic and emotional peak with Patti Farinelli, as her fans well know.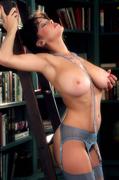 But he did persuade Cathy Larmouth, Heidi Sorenson, Alana Soares, and his last PM, Justine Greiner, to strike the same kinds of erotic poses. And he photographed every prodigiously endowed PMs who graced PBs pages from Karen until the end of his time with PB, I imagine by choice, given his seniority—again trying, I think, to recreate what he had with Karen.
Karen's vintage fans are not the only ones who have noticed how compelling and erotic her photos are. Ken Marcus's peers awarded him his first and only PB photography award for his layout of Karen. To this day he gives that honor a prominent place in his honor-laden bio. And VEF members who are on other, shall we say more "demonstrative" threads, are as taken by Karen as we are. Those threads aren't my cup of tea, nor are PMs in general their cup of tea, but I do follow posts on Karen or Patti wherever they lead. On the most frequented such thread (initials "WC!"), most PMs from PB's Golden Era have received not a single post. Fans on that thread prefer hardcore or hard softcore photos, so even the greatest PMs don't receive many posts. But Karen surpasses every other PM from Ken Marcus's era (1974-1985) in posts on the WC thread, followed by Patti Farinelli and Alana Soares—a testament not only to their beauty, but to Ken Marcus's skill and to the erotic intensity of their photos.
I'd die of embarrassment if Karen were to read our thread and be embarrassed or upset by our passion for her, when she should be proud of everything she did. What an accomplishment. What Karen did was hard to do—physically, emotionally, and artistically—and she did it splendidly: a virtuoso performance by a young woman who had to learn from scratch. It's sad to think so many people made her feel terrible for having done something magnificent. She created beautiful, timeless art. The problem is that erotic art is not cherished and admired the way it should or could be in our culture. Hypocrisy abounds. But we're human, our favorite PMs are human, and we should enjoy our humanity, including our sexuality. I hope to write another note on Karen's discussion thread in defense of erotic art, but for now, let me say again and again as I have in the past, "Karen, thank you. We're ordinary guys who know the difference between fantasy and reality, and love both. Glad that you, a special yet down-to-earth person, also know the difference between fantasy and reality, and embrace both too." Why not live life to the fullest? Karen has, and she's an exemplar (and dare I say a "model") for all of us.