This
thread for Roni Bell has been called solved, & suggested it
might
evolve into her model thread (i.e. a PMT), with further research encouraged, yet it is closed to any such new content?
What I wanted to add/suggest was this:
Unnamed on the cover of Man's Magazine, 1975-10.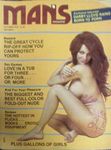 That image is frustratingly small,

and the timing seems a bit of a stretch, but it also seems the spitting image of the model in Rogue Annual, 1971-Spring.
----
Unintended consequences? I don't think we want a Pending-Pending Model Threads section,

but above illustrates the difficulty--a thread stub we may not want to ditch/delete just yet, but is the solved forum (i.e. the pre- or pending-bin?

) really the right place, either?

Maybe it simply got moved there during a tidy-up with the last post not really attended to? /shrug/
----
Hmm, also Man's Magazine, 1974-10.