Another possibility for my Seductress Series #07 (SS-7) request is Seductress #106 (SS-106). goldfinger perfectly explains the reason for the different number :
Quote:
Originally Posted by
goldfinger

... This loop ... SS-07 Twin Fantasy (Gina Martell, Laurie Smith) ... along with SS-06 Something Different, seems to be an exception to the two-digit series numbers corresponding to the three-digit series numbers (ie, 02=102, 17=117, etc). I would postulate that the series started with a three-digit system, and somewhere between 119 and 24 changed to a two-digit system. It follows, then, that the numbers for Twin Fantasy and Something Different were -- for whatever reason -- transposed
...
I have found a version of this loop as Seductress #106 at VEF's big sister forum
planetsuzy
at the start of this decade. It is on a post in
timmodude's favorite retro-classic girl/girl scenes
thread :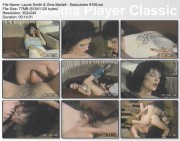 Unfortunately the depositfiles link is dead.
This is more likely the version I've lost thanks to a flash drive fail. But with a couple of numbered versions I hope someone can fill my request please.
Thanks In Advance for any help