I believe that Heather Purdy is not Heather Collins.
Heather Collins, Heather Purdy
Heather Purdy first magazine appearence is in Night and Day 1968-07 cover & 6 pages. I believe her modeling career was probably over by 1972 and Heather Collins career was just starting.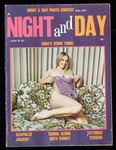 Heather Collins first magazine appearence is (as Irene Rogan) in Modern Man V23#3 1973-03.
Heather Collins first appearence in The Latent Image Catalog. The description of her is interesting.
and #12.