I often read post by people asking how to do a storyboard or screencaps.
I mean this type of thing.
(Sorry for my approximative English, I hope it will be clear.)
The
KmPlayer
is a
free
universal media player. Like the VLC, it has all codecs and plays about everything. Personnally I prefer the Km because it has better image and specially much better sound quality (but this is an other topic).
The Km has an interesting feature called
STORYBOARD
.
It did the storyboard I posted in less than 10 seconds. You do the set-up the first time you use it and you don't have to change it anymore (and it is very easy to do). A few clicks and the storyboard is done.
Of course the Km randomly selects pictures. If you choose like I did 5 rows and 4 columns (20 pictures), then for a 10 minutes clip, it will take a picture every 30 secondes, whatever the picture is. And as I said it is done in less than 10 seconds, it does not play the file. Short clip or feature, it works that way and as fast. The information about the file written at the top of the page is also written automatically by the Km. You don't have anythIng to do.
Step by step procedure.
1. You open the file and press PAUSE when it starts playing.
2. You put the arrow of the mouse anywhere on the picture and click with the right button. You'll get this:
3. Then move down the arrow on
CAPTURE
and you'll get this: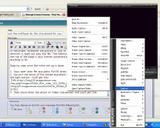 4. On top of the new column you can read
MAKE STORYBOARD
. Click on it and you'll get this :
5. Click on OK and it is done in a few seconds. The Km folder has a sub-folder called CAPTURE and your storyboard is saved there. That's it that's all.
EVEN EASIER. there is a shortcut.
Just do step 1. Open the file and press PAUSE when it starts playing.
2. Use the shortcut : CTRL>ALT>S
And you'll get the window I posted on step 4 and Press OK.

THE INITIAL SET-UP THE FIRST TIME YOU USE IT:
Step 4 when you have this window. I put the infos on this page :
You can download the KmPlayer here :
http://www.download.com/The-KMPlayer...-10659939.html